Automatic Transfer Switch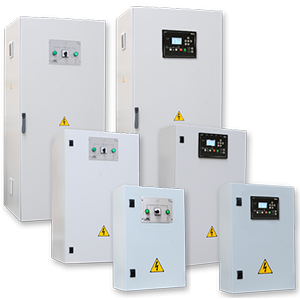 The ATS control panel comprises all circuits, devices and controls which enable the switch between the mains and the genset, in order to supply the load in case of mains failure.
Two types of ATS Control Panels are available:
«Basic» Version: It's a manual ATS Control panel (without any microprocessor controller) equipped with a 4 positions switch selector with AUTOMATIC – 0 – MAINS – GENSET and 2 (two) lamps for optical signalling (Load supplied by the Mains) and "Load supplied by the Genset". Fuses protections and terminal boards are available as well. This type of ATS panel is usually combined to a local genset control panel.

«Logic» Version: It's an automatic ATS Control panel equipped with microprocessor based controller having a graphical display which allows to show voltages, frequency, working hours and the battery voltage of the genset. This type of ATS panel is able to control automatically the switch Mains/Genset. The LOGIC ATS panel supports a microprocessor based controller, available in two versions: ATS115 and ATS115 Plus
Our Features
years
warranty

ft2 our factory
in Saudi Arabia

years
experience

generators
have been sold
About Bravo Manufactory
Al-Faddaghi & Partners has long history and great experience in building Bravo Generator sets, Sound Proof Canopies and Mobile Lighting Towers going back to the 1980s. Our factory is located in Riyadh with manufacturing and assembling facilities covering an area of around 60,000 square meters or more than 600,000 square feet. We are licensed to build Diesel Generators under "BRAVO" brand name with range starting from 12 up to 2000 kVA. Our company is well known as reliable diesel generators manufacturer whose main objective is customer's satisfaction and long-term cooperation.
Who are our Customers
Thousands of Bravo products, throughout the years, have been sold catering to domestic sales like Ministry of Telecommunication, Ministry of Health, Ministry of Education and Ministry of Interior Affairs and non-government companies and organizations like Construction, Resort areas, Food manufacturing, Hospitals, Banks and so on. We are expanding our export geography to include Gulf Countries, Middle East and Africa.
Call

Write

Come

Follow us
and our managers FREE will help you to make choise