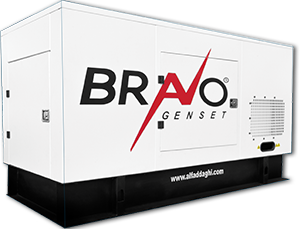 Our factory is one of those few who are capable to build own silent Canopies according to highest standards for reliable and overheating free operations.
Recent inspection of Engineers from Kubota engine confirmed our best Enclosure design and approved dealership for their engines, unlike other our competitors.
Bravo Engineering Department is able to modify our products to meet customers' requirements.


In cooperation with Aramco
New age power and in cooperation with Aramco Co. manufacture customized soundproof enclosures, the first of its kind in Saudi Arabia
The enclosures reduce the sound emitted from the generator as well as protect it form the harsh desert elements
Our Features
years
warranty

ft2 our factory
in Saudi Arabia

years
experience

generators
have been sold
About Bravo Manufactory
Al-Faddaghi & Partners has long history and great experience in building Bravo Generator sets, Sound Proof Canopies and Mobile Lighting Towers going back to the 1980s. Our factory is located in Riyadh with manufacturing and assembling facilities covering an area of around 60,000 square meters or more than 600,000 square feet. We are licensed to build Diesel Generators under "BRAVO" brand name with range starting from 12 up to 2000 kVA. Our company is well known as reliable diesel generators manufacturer whose main objective is customer's satisfaction and long-term cooperation.
Who are our Customers
Thousands of Bravo products, throughout the years, have been sold catering to domestic sales like Ministry of Telecommunication, Ministry of Health, Ministry of Education and Ministry of Interior Affairs and non-government companies and organizations like Construction, Resort areas, Food manufacturing, Hospitals, Banks and so on. We are expanding our export geography to include Gulf Countries, Middle East and Africa.
Call

Write

Come

Follow us
and our managers FREE will help you to make choise